Things Companies Must Consider While Hiring Remote Developers
Who doesn't need software developers these days?
Start-ups are chasing after quality developers to meet their product development milestones. Where bigger enterprises are always hungry to hire programmers to surpass the opposition in the tech race. This has made hiring locally very time-consuming and costly.
At the same time, there is a silver lining provided enterprises widen their sourcing strategy–"remote software developers". 
Remote software developers can be both high quality and low cost, albeit located remotely. Also, studies suggest that they are as productive as on-site developers..
However, there is just one big problem: Finding & Hiring skilled remote developers who can bring real value to your team- is a notoriously daunting task especially if the remote developer is located outside your country / legal jurisdiction.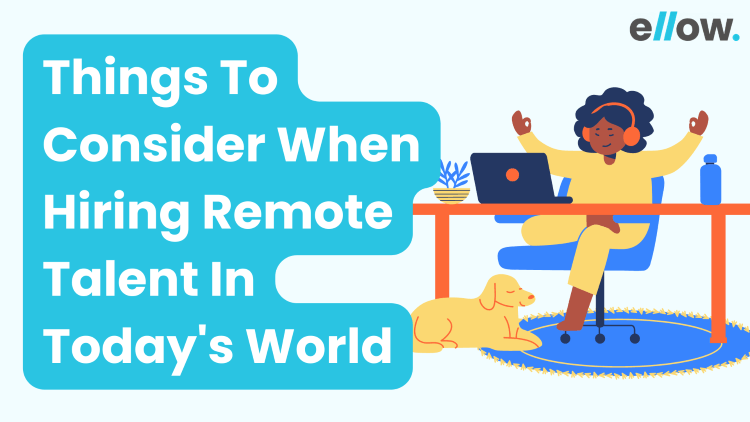 The recruitment process itself has multiple stages–Sourcing, Interviewing, Selection & Onboarding.
Sourcing remote developers is the first step in the hiring process. This can be daunting since there is no one place today to find remote developers. After sourcing, you need to interview and assess the resources which are both time-consuming and costly due to time-zone or cultural differences.
Finally, onboarding the selected developers can entail legal/operational processes which most firms in the US are not built to deal with today.
Does any of the above problems sound familiar?
A lot of customers we know just write off remote due to one or multiple of the above issues. But the one thing they miss is that you can find amazing talent if only you could do all the above hassle free and that's where platforms such as ellow.io come in.
Read on, where companies must learn and consider certain things while hiring remote developers and why it is crucial to ensure it runs like a well-oiled machine every step of the way. 
Let's begin.
What Should Companies Consider Before Kicking Off the Remote Recruitment Process?
What part(s) of the project can be managed remotely ?
What are the milestones that I need to achieve?
What skill sets should the remote team bring?
What time zones should this team be located in?
How to structure the remote team? Remember, you don't need an all rockstar team, you can have a mix of members on your team.
The cost of recruiting a new candidate is costly. As per Glassdoor's HR and Recruiting stats, the average cost per hire in 2019 was a whooping $4,000. Companies must ask a few fundamental questions before starting the recruitment process.
1. "Do we need to hire another software developer in the first place?"
It may seem a little self-evident, but it isn't. You'd be astonished to know that companies hire developers without a well-defined purpose to "expand the team."
Don't repeat that mistake. Companies must understand and know precisely why hiring another software developer is essential. Otherwise, organizations would end up wasting the time of the candidates.
2. "Who do we need? What kind of skill-set do the developers need to possess?"
It depends on what type of projects do companies have in hand. Are they missing something or falling behind the schedule? Do they need any chances of improvement in the ongoing projects? If companies have these issues, that's where they can allocate more human resources.
The easiest way a company can know about hiring the correct developer is to talk with the existing developers' team and get direct feedback. The company's current team is the best window to diagnose possible symptoms of falling behind the schedule or any other issues.
Which Skills Must Companies Consider While Hiring Remote Developers?
After identifying the needs and possible reasons to recruit the remote software developer, companies can set clear and specific expectations, right from the beginning:
What projects would the new developer be working on?

What will be their responsibilities?

What role will they serve in the team?
The last question is crucial. Skills are of utmost importance when companies are looking to hire remote developers; however, organizations are sometimes required to fill a specific team player missing from the team. 
Beyond needing a remote software developer- which is one of the obvious reasons in itself- it usually goes one of the three ways:
1. Companies need a specialist:
Companies search for a specialist who can fit into a specific niche with unique expertise and know-how. An organization might need experienced Python developers or Java developers, or someone well-versed with WordPress who can build a cutting-edge website.
A machine learning expert who is an expert in new technologies. These were some of the few instances. As the projects change, so do the personnel needs. So, companies need to adapt accordingly.
2. Companies need a leader or manager:
Companies might have met all of their technical requirements but still lack a team member with the correct personality to lead others and ensure the work runs smoothly. A Scrum Master always wants to have on your team; however, there is a greater necessity of an individual who knows the development process and all the ins and outs of coding and technical requirements.
3. Companies need a breath of fresh air:
Companies may have assembled a team of highly skilled professionals whose additional need is to bring something new to the table. It can benefit the team by increasing motivation, improving the atmosphere, reshuffling responsibilities, approaching potential problems from different angles, and learning from one another.
Once the initial concerns are addressed, it's the right time to rise and consider other things while hiring remote developers.
Six Fundamental Do's and Don'ts Companies Must Consider While Recruiting Remote Developers:
Sell yourself: Hiring remote is hiring an employee on the other side who also has options to choose from. So you need to sell your company as much as they need to sell their resume to you.


Treat your applicants with respect: This is the day & age of social where everything gets shared on Glassdoor, including interviews. So treat the other employee with respect at all stages of evaluation and if you have to decline, be respectful and provide proper feedback. There is no bad worker, they are just a poor fit for what you are looking at the moment. 


Cultural differences:  Some of these guys may be culturally different, but that's exactly what brings value to teamwork. Be mindful of that.


Time Zone differences: Remote hire may be in a different time zone and they usually are extending themselves to meet your time zone / project coordination needs. Be appreciative of the fact that they are going out of their way.


Pay:  Make sure your employee gets paid a fair wage. While remote is not new, a lot of current companies that do this take away  the lion's share of your budget and pay only a third to the actual developers. This leads to lower quality of employee or high attrition rate or both.

Please make sure / insist that the actual developer gets paid. This is where platforms like ellow with their transparent model have an edge.


Long-term contracts: Provide visibility to the applicant on your long-term plans. Keeping it short term is the main reason why applicants keep looking out for new opportunities. We recommend minimum contracts of  6 months to 1 year extending up two years as ideal.
It's relatively common that the majority of the candidates applying for the job hate to go through the tedious recruitment process. Ever wondered why this is the case? And what must companies learn before beginning the tedious hiring process?
Let's shed some sunshine on the most common problems of recruitment that candidates complain about:
Companies must learn not to make the recruitment process unnecessarily difficult for the candidates. If it's too strenuous or has too many steps, organizations will discourage them from putting the best foot forward before hiring them. Companies must make the entire recruitment process effortless, and the candidates would thank you for that.
If companies value their applicants' time, they love them as people- now that's an excellent start to any relationship. It will go on both sides. Avoid taking too long interviews. Plan ahead, be efficient, and make the recruitment process as swift as possible.
If there is one specialty people don't like and can't stand, it is getting bogged down in bureaucracy. Companies must learn to ask only as much as possible, and the applicants will happily oblige. Moreover, it will poorly present the company's reputation if they swamp a candidate with a million things to do in the early process.
Be transparent and not vague. Companies shouldn't keep the candidates in the dark as it will create a massive problem in the future. Please provide them with complete end-to-end information and be up front about the specifics in detail. 
The salary formula, tech languages, or work experience are some of the examples where being honest would be in favour of the company and the applicant.
"Poor Feedback" doesn't mean only negatively. It may be positive or negative, but the feedback's quality matters. Organizations must give it always, give it well, and fast. Point out the specific reasons that led to the ultimate decision to hire the developer or not. 
The companies must keep these fundamental concerns in mind while figuring out the recruitment process. Even if the companies don't end up hiring the applicants, even they will have a sense of clarity and would be leaving on a somewhat positive note.
Companies Must Emphasize the Soft Skills of the Remote Developers; why?
There are two types of skills- soft skills and hard skills that often go hand in hand.
Soft skills are a flexible grouping of personality traits relating to how a person conducts himself around others. Hard skills are quantifiable and other acquired abilities that require specific training to perform tasks.
How the developers get along with others dramatically influences the quality of work.
Of course, companies cannot hire someone for their soft skills alone, and the candidates need to do the job with the help of hard skills.
Let's look at some of the essential soft skills that companies must consider before hiring remote developers:
Communication is crucial and the most significant part of soft skills. An uncommunicative developer is an uncooperative developer. If the developers are excessively timid or withdrawn, they will not be a good fit for a company that relies excessively on teamwork. 
When a new talent joins the existing team, organizations need to train them. It is an investment- sometimes significant. Since people are the most valuable source of a company, the idea here is to mold professionals and retain them for an organization.
However, assume a company has whipped the fresh developers into shape, but their insufficient soft skills make it impossible to work with them. What can a company do? Nothing.
Every individual will play an influential role in the working team. A healthy and friendly work environment is easily disturbed by a single poorly fit developer.
It is not an exaggeration: "One rotten apple will have a bad influence that causes other team members to leave."
Unfortunately, it is difficult for an organization to spot before hiring. However, companies must recruit developers that are filled with synergy.
Teamwork will have conflict, and it's unavoidable. Different individuals have different opinions, and the workplace is where they clash often. The companies must recruit developers who are open to feedback; otherwise, nothing will get done correctly. Mistakes will happen, but the developers should have the quality to take constructive criticism in stride. 
To top it all off, respect is a highly elusive but invaluable quality. Candidates must have the quality to respect one's superior, but even more for the subordinates. After all, we all are people and deserve to be treated well, even if we sometimes fall off from the expectations. A company needs to have developers in the team who understand this invaluable respect.
In this new era of work, organizations should embrace the hiring of remote software developers with open hands. It is a win-win situation for both; organizations don't have to spend extra bucks on physical office space, and other office-related utilities if employees were working from the office.
At the same time, getting internal talent for their organization. On the other hand, employees get to work with global organizations at higher pay.