Guest Post Guidelines Ellow | Write for us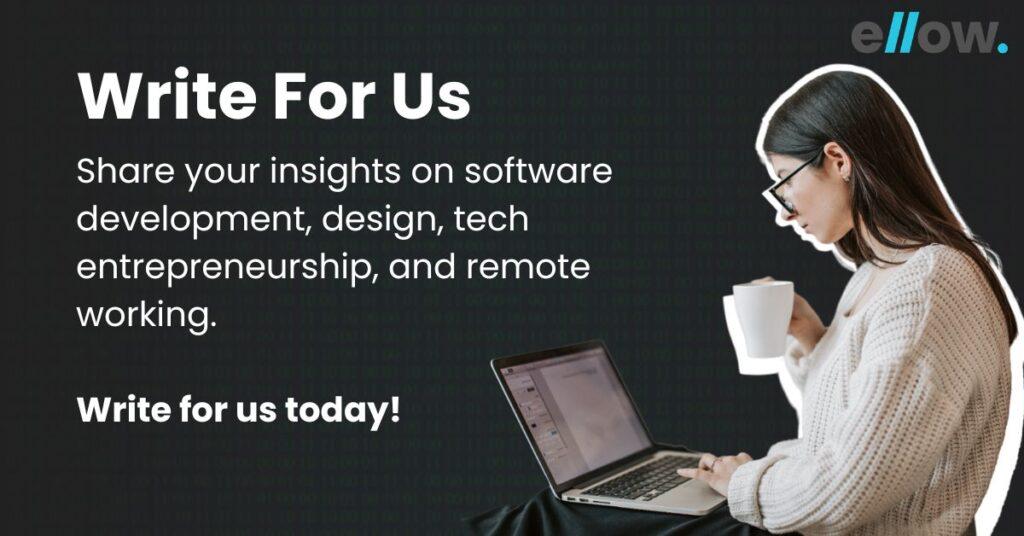 Hello!
Are you looking to share your knowledge with a broad audience of tech enthusiasts, developers, designers, and entrepreneurs? Then you've come to the right place – Ellow.io is now accepting guest posts 😀
The Ellow.io Blog is a platform that shares insightful content in the realms of software development and design, remote working, and entrepreneurship. 
To help you navigate the article, we've provided a table of contents below.
Reading Sections 1 to 8 will help you determine if our blog is the right fit for your content.
1. Guest Blog Topics
We are currently accepting guest posts on the following topics:
Actionable insights on any tech framework/language (e.g. AngularJS, Python, etc.)
Freelance development and design
Remote working culture and strategies
Entrepreneurship in the tech sector
2. How to get your blog published with us
1. Only original, unpublished work
We value fresh content. Ensure that the topic you have in mind isn't already covered on our blog. You can use our search bar to check if a similar post exists.
2. Share a summary
Send us a 100-word summary of your article, along with your chosen topic and author bio, and we'll get back to you within 24 hours to confirm if it's a good fit. Email it to Suvankar.das@ellow.io with the subject line "Guest post – your_name".
3. Adhere to our guidelines
Once your proposal is approved, make sure to stick to our guidelines while crafting the article.
4. Send it to us!
Email your final blog post submission to Suvankar.das@ellow.io
3. What you gain from this
You get a do-follow link to your website.
Your work will be promoted across Ellow.io's social media channels and affiliate platforms – reaching out to newsletter subscribers, LinkedIn and Twitter followers. 
No delays in publishing 😎.
4. Guest Post guidelines
We accept only original, unpublished work, and the post must be relevant and insightful.
The post must be fluent, readable, and error-free.
Proper attribution of data, quotations, and reference to outside content is a must.
You're allowed only one link (do-follow) to your company's website, in the author's bio; no links to your website in the article body.
Moving on, here's what we expect in terms of content formatting:
5. Formatting and content guidelines
Please send your content in a Google Doc, granting access to suvankar.das@ellow.io.
The article must exceed 1200 words.
Keep your sentences simple – a good rule of thumb is 20 words per sentence.
Avoid unnecessary filler words, buzzwords, and jargon.
Limit paragraphs to 3 to 5 sentences each.
Use H2, H3, and H4 formatting for subheadings as needed.
Maintain no more than 300 words between each subheading.
Try to include bulleted lists to break up dense sections.
If including images, remember to add the image source.
6. Author bio
Provide a concise, engaging byline for your bio.
Include a link to your website and your social media profile in the Google Doc.
Provide us with a profile headshot in JPG or PNG format OR share your gravatar link.
7. Guest Post review process
After we receive your guest post submission, we will review it within 2-7 business days.
If your article meets our editorial standards and aligns with our content strategy, we'll let you know that your article will be published. If not, we'll inform you as well.
Note that we reserve the right to edit your submission. We'll review it, suggest/make any changes if necessary, and then publish it.
If substantial changes are required, we'll email you back with our feedback and request a revision.
If your post is accepted, you agree not to publish the post elsewhere, including your own blog or website.
If your post is rejected, you are of course free to use it as you wish.
8. How to find us on Google
Finding us on Google is easy, just use any of these keyword combinations:
"Web Development" + "Guest Post"
"Software Development" + "Guest Post"
"Technology" + "Guest Post"
"Web Design" + "Guest Post"
"Startups" + "Guest Post"
"Hiring" + "Guest Post"
"Developer hiring" + "Guest Post"
"Tech marketplace" + "Guest Post"
"Remote jobs" + "Guest Post"
"Programming" + "Guest Post"
"JavaScript" + "Guest Post"
"Python" + "Guest Post"
"App Development" + "Guest Post"
"Mobile apps" + "Guest Post"
"Software jobs" + "Guest post"
"Coding jobs" + "Guest post"
"Freelance projects" + "Guest post"
"Tech hiring" + "Guest post"
Thanks for your interest, and we look forward to hearing from you soon!