Businesses are constantly seeking smarter ways to operate and make the lives of their customers easy. This hunt has given rise to Software as a Service, or SaaS, a great approach to transforming the software landscape. As companies across the globe embrace digital transformation, they're finding that SaaS solutions offer a world of possibilities.
Using SaaS solutions is cost-effective and comparatively has higher returns on investment. Whether in software development, entertainment, finance, or virtually any other industry, you'll find SaaS applications that can streamline your operations and enhance your services.
Whether you are navigating the realms of technology or venturing into finance or entertainment, SaaS applications stand ready to streamline operations and elevate the quality of services across industries.
According to Statista, the SaaS market is projected to have a value of around $197 billion in 2023, with expectations of reaching $232 billion in 2024. SaaS applications operate within the cloud and are typically accessible via desktop and mobile apps, along with web interfaces.

What is a SaaS (Software as a Service) application?
SaaS stands for Software-as-a-Service, is the most popular type of cloud-based service out of three main categories: SaaS, PaaS, and IaaS. In a SaaS model, applications are stored on a cloud server and delivered to users online.
An independent software vendor (ISV) can put their application on a cloud server provided by another company. Often, these cloud providers are major players like Microsoft, Amazon Web Services (AWS), and Google Cloud.
SaaS applications are primarily accessed through a monthly subscription fee, allowing users to utilize the software whenever needed without the need for local installations. The subscription cost can vary based on factors like how much data you need to store, the level of technical support required, or the number of users who will use the software. It is like paying for a service every month, making it more flexible and accessible for businesses and individuals alike.

Why Have SaaS Application Development Services Become So Popular?
SaaS application development services have gained immense popularity for several compelling reasons.
Ease of Access
SaaS applications are accessible through web browsers, making installation and downloads unnecessary. You can use them on any device with an internet connection, offering convenience and versatility.
Cost Efficiency
SaaS operates on a subscription-based model, allowing businesses to pay for what they need on an ongoing basis. This eliminates the upfront costs of hardware, software licenses, and maintenance, making it cost-effective, especially for small and medium-sized businesses.
Scalability
SaaS applications can easily adapt to changing business needs. You can add or remove users and features as necessary without significant reconfigurations.
Automatic Updates
SaaS providers take care of software updates and maintenance, ensuring that you always have access to the latest features, security patches, and improvements without manual intervention.
Rapid Deployment
Unlike traditional software, which can be time-consuming to implement, SaaS applications are typically ready to use shortly after subscription, enabling businesses to implement new solutions quickly.
Accessibility and Collaboration
SaaS applications enable real-time collaboration among teams, even if they are spread across different locations. Multiple users can work on the same document or project simultaneously, boosting productivity and teamwork.
Security and Compliance
Reputable SaaS providers invest in robust security measures and compliance certifications, offering data encryption, regular backups, and adherence to industry regulations. This often exceeds the security measures of individual businesses.
Reduces Additional Efforts
SaaS shifts the responsibility for infrastructure management, software updates, and troubleshooting to the provider. This frees businesses to focus on their core activities rather than on IT maintenance.
User-Friendly Interfaces
SaaS applications typically feature intuitive user interfaces designed for ease of use. This reduces the learning curve for employees and enhances user adoption.
Global Accessibility
SaaS applications can be accessed globally, making them ideal for businesses with international operations, remote employees, or customers in different time zones.
Trial and Flexibility
Many SaaS providers offer free trials or limited versions of their applications, allowing businesses to test the software before committing. This trial period helps ensure compatibility and suitability.
Innovation and Upgrades
SaaS providers continuously innovate to stay competitive. Users benefit from evolving features, functionality, and integration options that adapt to changing business requirements.

10 Popular Use Cases of SaaS Application Development
1. SalesForce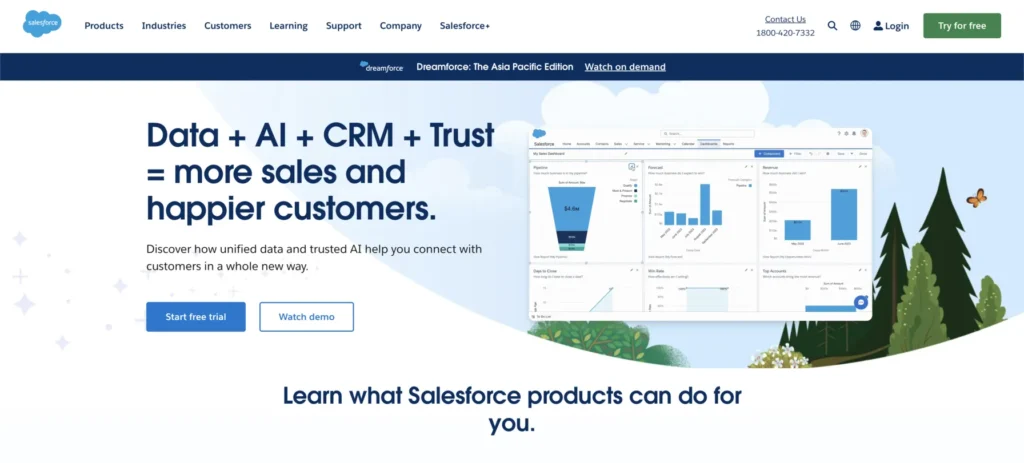 Salesforce is a widely recognized B2B SaaS application that helps businesses manage customer relationships and boost sales. This American cloud-based software company offers a range of services beyond customer relationship management (CRM). You can use Salesforce's services to
monitor leads and gather information
improve sales with Tracking Insights
Boosting Sales Team Productivity
engage leads Directly
Collaborating on Email Campaigns
Key features:
Customer Relationship Management (CRM): Salesforce helps businesses manage and nurture their customer relationships, storing important customer data and interactions in one place for easy access.
Sales Automation: It streamlines sales processes by automating tasks like lead management, opportunity tracking, and email communication, making it easier for sales teams to close deals.
Marketing Automation: Salesforce allows you to create and manage marketing campaigns, automate email marketing, and track customer engagement, helping businesses reach their target audience more effectively.
Analytics and Reporting: With Salesforce, you can analyze data, generate reports, and gain insights into your business performance, helping you make data-driven decisions to improve operations.
Customization and App Integration: Salesforce offers extensive customization options, enabling businesses to tailor the platform to their specific needs, and it integrates with numerous third-party apps for a seamless workflow.
Salesforce was launched in 1999 and has made a mark with its innovative solutions for managing customer relationships and sales teams. It's a valuable tool for businesses looking to improve their customer service, sales, and marketing efforts.

2. Zoom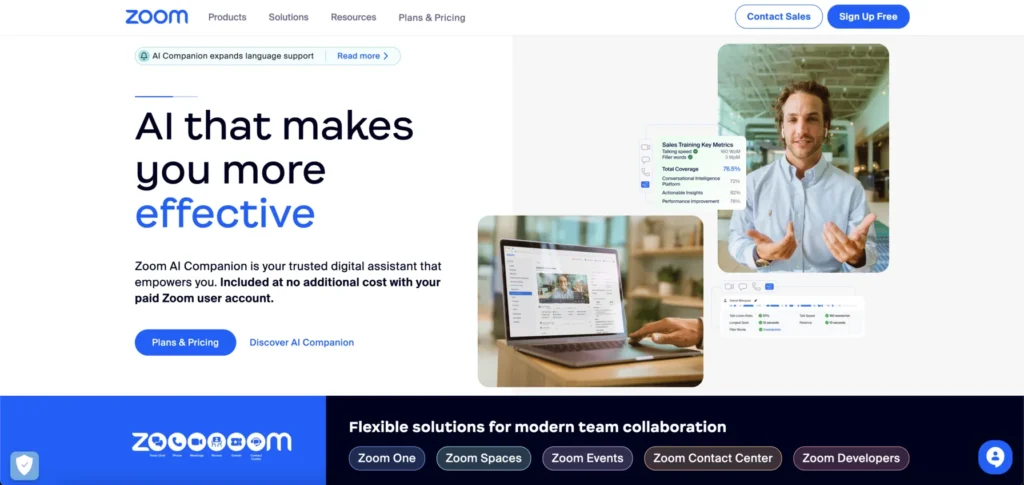 Zoom is a widely used, cloud-based tool for video and audio conferencing, chat, and webinars. It's known for being user-friendly, reliable, and cost-effective. Its popularity soared in 2020 due to the increased demand for remote work and virtual communication. Freelancers, teams, and businesses of all sizes use Zoom for both personal and professional purposes.
It is not just about video conferencing; you can also use it for screen-sharing, live chats, distance education, and hosting webinars. The best part is that Zoom is available as a Software as a Service (SaaS) application, making it easy to set up.
Zoom Video Communications, Inc., the company behind Zoom, is based in San Jose, California. Its strength lies in video and online chat, and it's considered one of the standout examples of SaaS applications.
Key features:
Chats and Meetings: You can have one-on-one or group chats and host virtual meetings effortlessly.
Workspaces and Rooms: Create workspaces and rooms for focused collaboration.
Systems for Phone Calls: Make phone calls through the platform.
Webinars via Video: Host webinars with ease.
The Marketplace: Explore and integrate various apps and add-ons from the Zoom Marketplace.
Platform for Developers: Developers can build and customize solutions on the Zoom platform.
Zoom was launched in 2012 and has become a go-to choice for online communication. Its unique selling point (USP) includes offering free cloud video conferencing with HD video quality, mobility, and web meetings, all in one package. It's a versatile SaaS application that meets the needs of various users and organizations.

3. Google Applications (G Suite)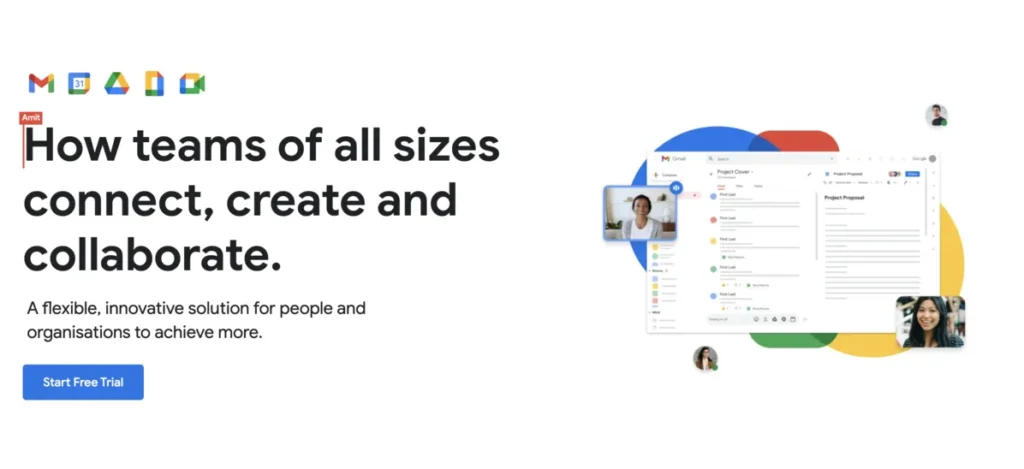 Google Applications, part of the G Suite, represent a crucial aspect of the future of software. They've transformed the way businesses and individuals work, making life easier and more efficient for everyone. When you think about Google Suite, you can't help but think about some of its primary applications. Gmail, Google Docs, Google Sheets, and Google Drive are household names. The familiarity underscores their significance in the world of SaaS apps.
G Suite offers a comprehensive ecosystem that caters to individuals, small businesses, and large enterprises. What's remarkable is that it's designed to work seamlessly on all your devices.
Key features:
Professional Email Addresses: With G Suite, every user gets a professional email address. This adds a level of credibility to your communication.
Cloud Storage: G Suite stores everything in the cloud. No more worrying about running out of space on your local device.
Google Apps: It provides you with high-quality Google apps like Gmail, Google Drive, Google Calendar, and more. These apps are the backbone of many businesses and individuals.
Powerful Cloud Search: The ability to search across all your apps using powerful cloud storage makes finding your important information a breeze.
Flexible Account Management: G Suite offers flexible account management, making it easy to add or remove users as your team grows or changes.
Data Management with Google Vault: Google Vault helps you manage your data effectively, ensuring it's safe and accessible when you need it.
Offline and Mobile-Responsive Apps: G Suite's apps work offline, and they are mobile-responsive, adapting to the device you're using. No ads to distract you either.
G Suite has been around since 2006, and its Unique Selling Proposition (USP) is the ability to collaborate in real-time on the same document with your team members. This real-time collaboration can significantly boost productivity and streamline work processes.

4. Slack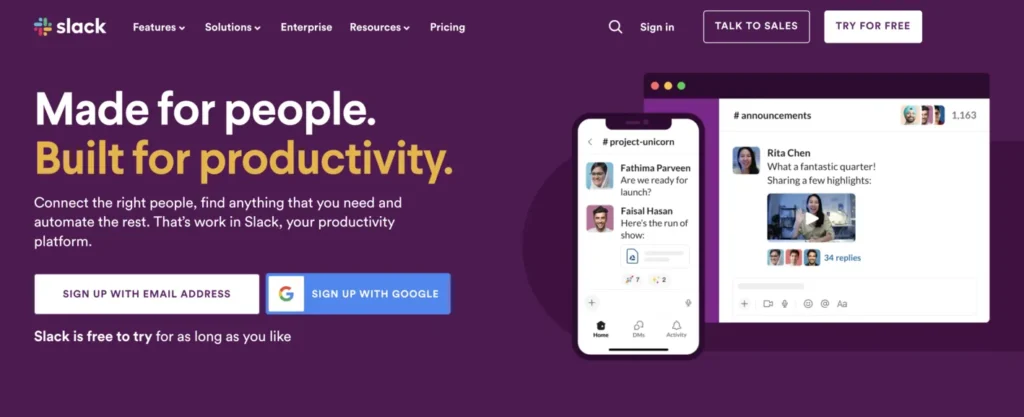 When it comes to the future of software, Slack stands out as a remarkable SaaS application. It is a powerful business communication platform designed to enhance collaboration and streamline work processes.
Key Features:
Privacy and Security: It offers end-to-end encryption, ensuring that your private messages and group discussions remain confidential and secure.
Efficient Communication: It is a perfect medium for team communication and collaboration when email feels too formal and messaging apps are too casual.
Integration: Slack connects seamlessly with over 2,200 other services, including Google Drive and Office 365. This integration allows you to access and share files, documents, and information effortlessly.
Versatile Communication: You can communicate in various ways on Slack, whether it's through text chat, audio and video clips, or live huddle discussions.
Productivity Boost: By reducing the need to switch between different tabs or applications, it streamlines your workflow. Additionally, Slack allows you to automate routine tasks, freeing up your time for more important work.
Data Control: With Slack, you have complete control and visibility over your data. You can manage your encryption keys, ensuring that your sensitive information remains in your hands.
User-Friendly Interface: Slack's simple interface makes it easy for teams to adopt and use effectively. Many companies have made it their virtual headquarters due to its user-friendliness and seamless integration with various apps.
Slack was introduced in 2013, and it has continued to evolve and improve over the years. Slack revolutionizes team communication. It's faster, more organized, and more secure compared to traditional email, making it an essential tool for modern businesses.

5. Netflix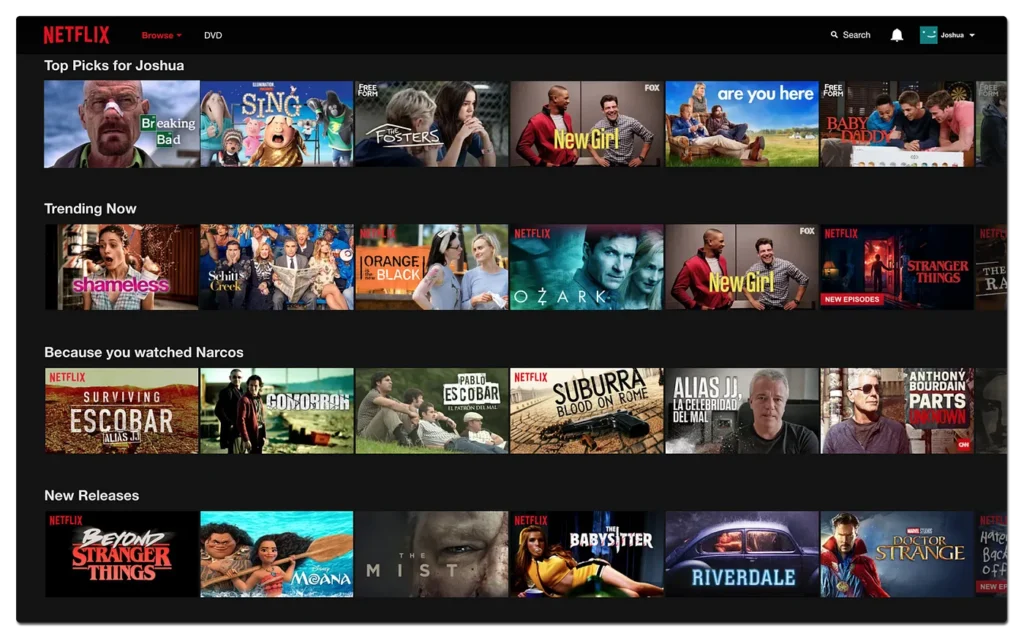 Netflix, an American streaming service, is a remarkable SaaS application used by people worldwide. It is famous for offering award-winning TV shows, movies, anime, and documentaries. At first, Netflix started by renting out DVDs through the mail, but in 2007, they introduced streaming media and videos in response to customer demand. Their headquarters are in Los Gatos, California.
Netflix's main strength lies in its ability to provide top-notch entertainment around the clock. It has a vast and diverse content library, which means there's something for everyone. It also offers on-demand streaming without annoying ads, giving you uninterrupted viewing pleasure.
Key features:
Vast Content Library: Netflix offers a vast library of movies, TV shows, documentaries, and original content, providing a wide range of entertainment options for subscribers.
Personalized Recommendations: The platform uses algorithms to analyze your viewing history and preferences, offering personalized recommendations to help you discover new content you might enjoy.
Offline Viewing: Netflix allows users to download select movies and TV episodes for offline viewing, making it convenient for on-the-go entertainment without an internet connection.
Multiple User Profiles: You can create multiple user profiles within a single Netflix account, ensuring a personalized experience for each family member or user, with their watch history and recommendations.
Ad-Free Streaming: Unlike traditional TV, Netflix is ad-free, allowing uninterrupted viewing of your favorite shows and movies without commercial interruptions.
Netflix has been around since 1997, and what sets it apart is the exclusive content it offers. You can watch popular network shows and a range of original series, films, documentaries, and specials that you won't find anywhere else. This makes Netflix a top choice for entertainment lovers.

6. HubSpot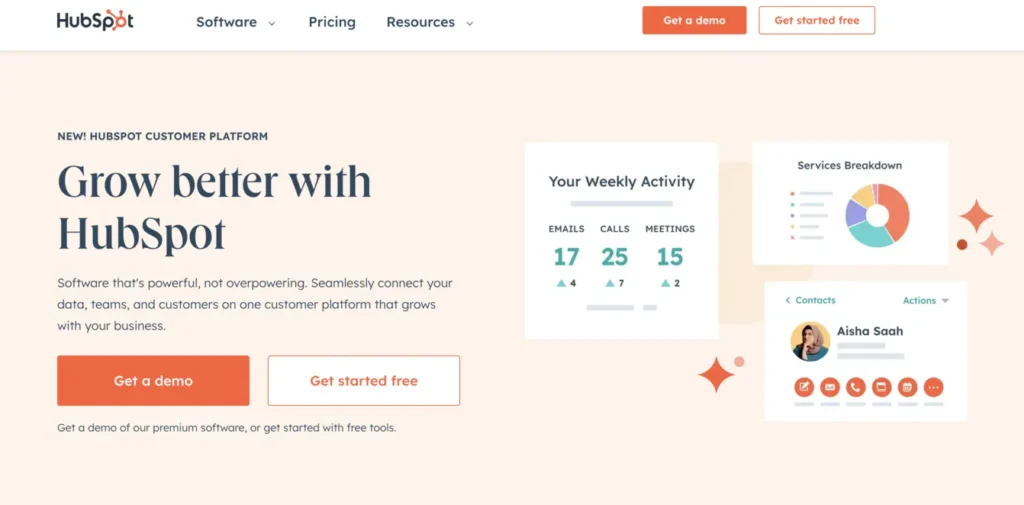 HubSpot is the best example of a SaaS solution that has evolved from a simple CRM (Customer Relationship Management) into a multifaceted tool for businesses. HubSpot was founded in June 2006 by Brian Halligan and Dharmesh Shah. The company has become a prominent player in the inbound marketing and sales software industry, providing tools for businesses to attract, engage, and delight customers.
Its user-friendly interface, global reach, and robust free CRM make it a standout choice for companies looking to enhance their inbound marketing and sales processes.
Key Features:
Customer Relationship Management (CRM): HubSpot offers a robust CRM that allows you to manage and track interactions with leads and customers.
Inbound Marketing Tools: It provides tools for content creation, email marketing, social media marketing, and search engine optimization (SEO) to attract and engage potential customers.
Content Management: You can create and manage your website and blog content within HubSpot. It simplifies content creation, publishing, and optimization for better search engine visibility.
Email Marketing: HubSpot's email marketing tools enable you to create, send, and track email campaigns.
Social Media Management: HubSpot allows you to manage your social media accounts, schedule posts, and monitor social interactions, all from a single platform.
Marketing Automation: You can automate various marketing tasks and workflows, such as lead nurturing and email sequences, to save time and increase efficiency.
Sales Tools: HubSpot offers a range of sales tools to manage leads, track deals, and automate your sales processes.
Analytics and Reporting: HubSpot provides detailed analytics and reporting capabilities, allowing you to track the performance of your marketing and sales efforts, and make data-driven decisions.

7. Shopify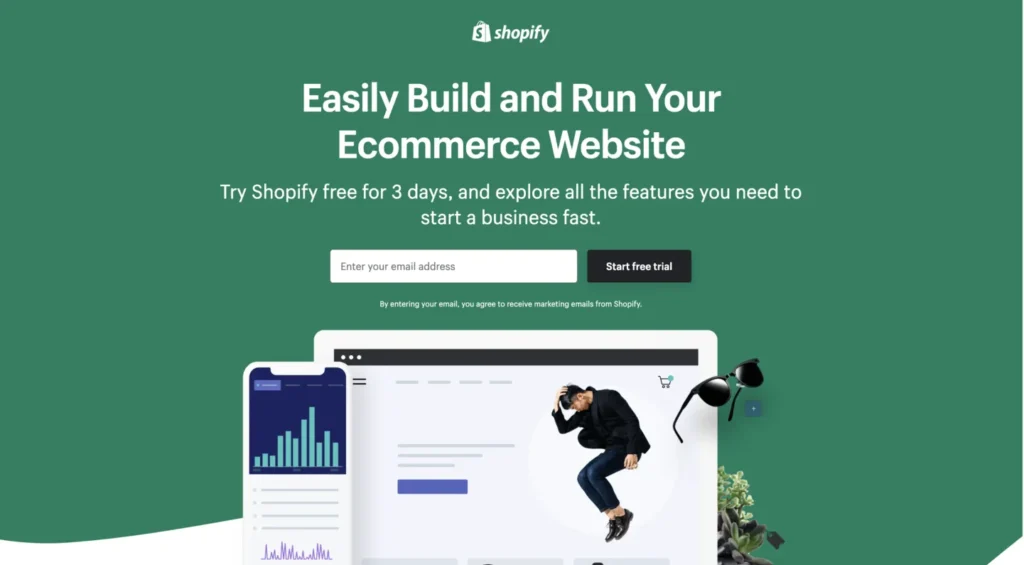 Shopify is a game-changer in the world of eCommerce. It is an all-in-one eCommerce solution, and it's super easy to use. You don't need to be a coding wizard to set up your online store. Plus, it's loaded with features that help your store shine. It has built-in SEO features to help your store get noticed. Shopify made its debut in 2006 and has been on a rocket ride ever since.
Key Features
User-Friendly Interface: Shopify offers a user-friendly dashboard that makes it easy for users with little to no technical experience to create and manage their online stores.
Customizable Themes: Shopify provides a variety of professionally designed themes that can be easily customized to match your brand's unique style and requirements.
App Store: Features like email marketing, SEO tools, inventory management, and more to enhance your eCommerce site.
Secure Payment Options: Shopify offers a secure and seamless payment gateway, allowing you to accept various payment methods, including credit cards, PayPal, and many others.

8. Adobe Creative Cloud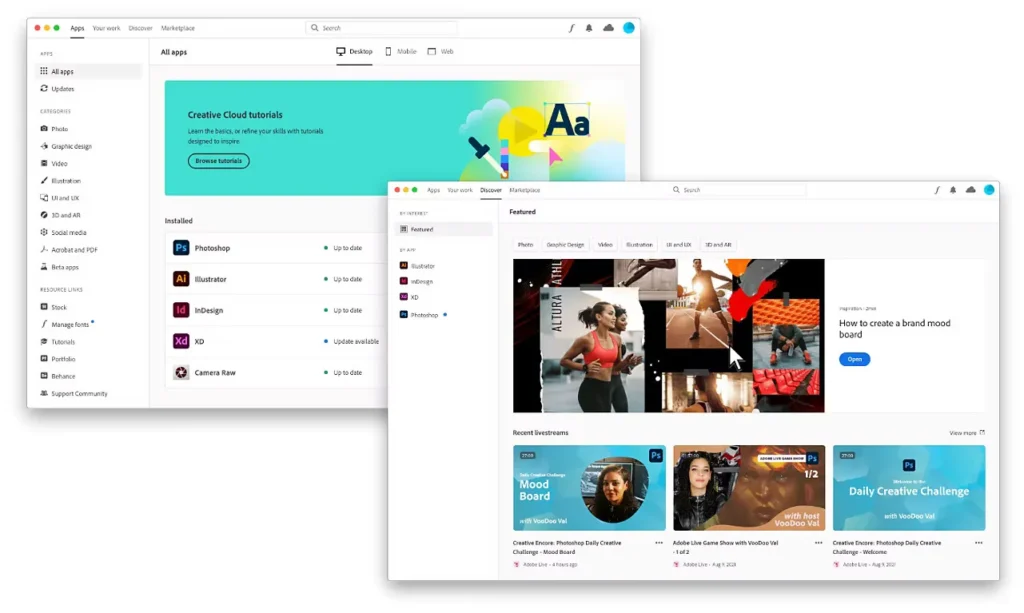 Adobe Creative Cloud is a game-changer for designers and creative enthusiasts. This SaaS solution bundles a variety of top-notch applications for graphic design, web design, and photo & video editing.
Key Features:
Diverse Creative Suite: Adobe Creative Cloud provides access to a plethora of creative applications, including heavyweights like Photoshop, Acrobat DC, Premiere Pro, and Illustrator.
Extensive Font Library: With Adobe Creative Cloud, you can explore and use thousands of fonts to make your projects stand out. It's a font paradise for typographic enthusiasts.
Engaging Community: Adobe Creative Cloud fosters a thriving community where you can connect with other creatives, share your work, and get inspired.
This software marvel was launched in 2011 and has since become a go-to platform for creative professionals and amateurs alike. In 2021, Adobe Creative Cloud raked in a staggering $4.11 billion in revenue, a testament to its immense popularity.

9. Box

The box is an exceptional SaaS solution that's shaping the future of software. Box was launched in 2005, and its unique selling point (USP) is its ability to enable secure collaboration with anyone, anywhere, and on any device.
This makes it an exceptional SaaS solution for businesses and teams looking to streamline their work and enhance their security. Box offers three different account types: Enterprise, Business, and Personal, so you can choose the one that best suits your needs.
Key features:
Secure File Collaboration: Box provides a secure platform for teams to collaborate on files from anywhere, at any time, and on any device.
File Sharing and Permissions: Box offers robust file-sharing options, including the ability to share files using traditional links or custom URLs.
File Preview and Compatibility: Box supports over 120 file types, allowing users to preview content before downloading. This feature is valuable for quickly assessing documents and multimedia files without the need for specialized software.
Notification and Version Control: Box keeps users informed about changes made to shared files. Notifications are sent when edits or updates occur, ensuring that all collaborators are aware of modifications.
Advanced Security and Information Governance: Box offers advanced security features, intelligent threat detection, and comprehensive information governance tools. It ensures that sensitive files are protected in the cloud and complies with various data security regulations.

10. Canva

Canva is an exceptional SaaS solution that's changing the way people create visuals. Canva was founded in 2012 by Melanie Perkins, Cliff Obrecht, and Cameron Adams. It is perfect for businesses and individuals, even if you're not a design pro. With Canva, you can access a huge collection of templates, graphics, and tools. This means you can easily design social media posts, logos, resumes, and more.
Key features:
User-Friendly Interface: Canva is super easy to use. It has a drag-and-drop interface that lets you create designs for social media posts, presentations, posters, or logos effortlessly.
Diverse Templates: Canva has a vast library of templates designed by professionals. You will find templates for various purposes, industries, and styles.
Extensive Customization: With Canva, you can make templates your own. You can use your brand colors, fonts, and images to keep a consistent look across your designs.
Image Library: Canva also gives you access to a huge library of stock photos, illustrations, icons, and graphics. You can use these in your designs to make them even more impressive.
Check this video out: The Future of SaaS in India! | SaaS Saturdays with Siddhartha EP 1

FAQs
1. What is SaaS?
SaaS, or Software as a Service, is a software delivery model where applications are hosted and provided to users over the Internet. Instead of installing software locally, users can access and use the software through a web browser, typically on a subscription basis.
2. What are some popular SaaS examples?
Some popular SaaS examples include Salesforce for CRM, Slack for collaboration, Dropbox for cloud storage, Zoom for video conferencing, Shopify for e-commerce, and Quixy for no-code app development.
3. What makes a SaaS company successful?
Several factors contribute to the success of a SaaS company, including offering a valuable product, providing excellent customer support, continuous product updates, and effective marketing and sales strategies.
4. How does SaaS differ from traditional software?
Unlike traditional software installed on individual devices or servers, SaaS operates in the cloud, allowing users to access it through the internet without local installation. It typically offers subscription-based pricing, automatic updates, and scalability, while traditional software often requires upfront licensing fees and manual updates.
5. What are the advantages of using SaaS?
Using SaaS offers several advantages, including accessibility from anywhere with an internet connection, lower upfront costs with predictable subscription pricing, easy scalability, and flexibility, automatic software updates and maintenance, enhanced collaboration, and reduced IT infrastructure and management requirements.